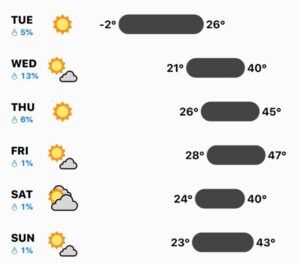 Happy New Year, Black Mountain Nordic Club members!
We've got 6 inches of new snow on the mountain, and your volunteer groomers are heading up Tuesday morning to get things spruced up so you can enjoy a bluebird day of skiing at the Sibley and Cutler trails!
Temps will be below freezing in the early morning hours, warming to the mid teens around noon to a high of about 20 in the afternoon. The Sibley warming hut is stocked with firewood to warm you up so you can keep the adventure going!
Remember, no dogs please at Sibley, but pups are welcome at Cutler. Happy trails!